Walkers Are Welcome in Haslemere

Walkers are Welcome is a network of over 100 towns and villages across the UK who have come together to help people enjoy the outdoors through walking. The nationwide initiative was launched in 2007 to encourage towns and villages to be 'Welcoming to Walkers'. In June 2013 Haslemere became the first Walkers are Welcome town in Surrey! This was made possible by the support and funding of Haslemere Town Council, in conjunction with Godalming and Haslemere Ramblers, Haslemere Walking for Health and the Visitor Information Centre
Aims and Objectives
for towns and villages to be attractive destinations for walkers with top quality information on local walks
offer local people and visitors excellent walking opportunities within their areas
ensure that footpaths and facilities for walkers are maintained, improved and well signposted
contribute to local tourism plans and regeneration strategies
promote the health benefits of walking and increase participation
encourage the use of public transport
Haslemere boasts many other interesting local walks and the best starting point for any walk is the Haslemere Visitor & Local Information Centre, where a selection of free leaflets is available for you to view at your leisure!
The Serpent Trail - Surrey's new travel gateway to the South Downs National Park

The Serpent Trail is a 64 mile long distance path which starts in Well Lane, Haslemere just off the High Street. The route snakes its way out of the town, past Swan Barn and onto Blackdown before progressing through the South Downs National Park, looping round and eventually arriving in Petersfield. To download the trail leaflet, please visit The Serpent Trail. Copies of the leaflet are also available from the Haslemere Visitor Information Centre.

The Greensand Way Long Distance Route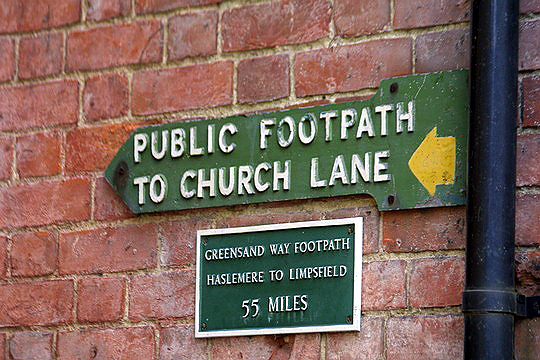 The Greensand Way is a long distance walk of 108 miles across Surrey and Kent. The route begins in Haslemere and ends at Hamstreet near the coast south of Ashford. In Surrey, it takes the walker along paths which, in many places, give unparalleled views to the south across the Weald as well as northwards to the North Downs. For more information, please visit The Surrey County Council website.